Marius-F. Danca



Ph.D. Professor
Avram Iancu University
Dept. of Mathematics and Computer Science
Str. Ilie Macelaru nr. 1A, 400380 Cluj-Napoca, Romania,
Tel./Fax 40-264-450050
&
Romanian Institute of Science and Technology
Str. Ciresilor nr. 29, 400487 Cluj-Napoca, Romania,
Tel. 40-364-800171, Fax 40-364-800172.
RESEARCH INTERESTS :
nonlinear science: continuous/non-smooth chaotic dynamical systems of integer/fractional order, fractals.
orcid.org/0000-0001-7699-8709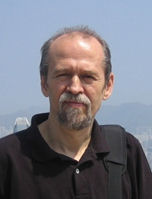 "I can't understand why people are
frightened of new ideas. I'm
frightened of the old ones"
John Cage
"Une cause trés petite qui nous échape
détermine un effect considérable que
nous ne pouvons pas ne pas voir, et
alors nous disons que cet effet est
du au hasard"
J. H. Poincaré